If you don't know, let me tell you. Ride, Shoegazing Monsters that they are, are coming to China. They will plays dates in MacPherson Stadium in Hong Kong on the 26th, Modern Sky Lab in Shanghai on the 28th and at Tango Livehouse in Beijing on the 1st of March.
Formed in 1988 in an unassuming university town, Oxford band Ride will forever be known as one of the most important Shoegaze bands there ever was.
They became one of the headline acts on Alan McGee's Creation Records after releases like Nowhere in 1990 and Going Blank Again in 1992. Being tagged as a Shoegaze band did not always sit well with the band, however. As a musical troupe, they were more interested in Noise, in the rhythm of distortion that bands like My Bloody Valentine, The Stone Roses and The Jesus and Mary Chain were engaged in during the late 80's and early 90's. Funnier still, it was not the influence of the Noisy North American scene that gave inspiration for their band in the first place,  but actually the new romanticism that could be heard in Manchester act The Smiths that first influenced them to start making music.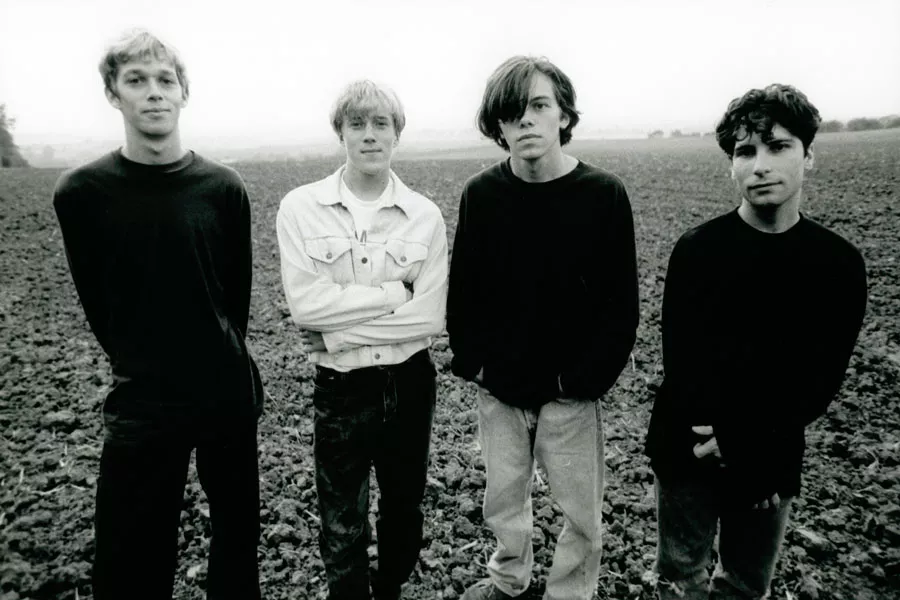 Ride were perhaps the noisiest and hardest of the Shoegaze bands going at the time, an impression that could be heard on songs like Seagull, Chelsea Girl and Vapour Trail although their sound did soften with the release of their Today Forever EP which sounded practically acoustic alongside Nowhere, and subsequently Going Blank Again which shared certain hallmarks with another burgeoning scene – Jangle Rock.
As time went by and tastes changed, Shoegaze acts started to fall away, first with the cataclysmic financial effects of My Bloody Valentine's Loveless in 1991 and the sale of Creation Records to Sony in 1992, bands like MBV, Slowdive and Ride grew farther and farther from the public eye. All of this came to a head during the recording of Tarantula in 1995. Members had developed different tastes and colliding opinions about the future of the band. Guitarists Andy Bell and Mark Gardener grew further and further apart during recording sessions, with tracks on Carnival of Light actually being split into two halves, with one half written by Gardener and the other half written by Bell. With such division in the band, it seemed just a matter of time before everyone went their own way.
Andy Bell subsequently went on to join another Manchester band blowing up around the time of Ride's demise – Oasis. Gardener and drummer Laurence Colbert went on to form The Animalhouse.
It wasn't until 2001 that Ride came back together for a brief live jam, which became Coming up for Air. The interest in the limited edition CD made the members think twice about whether to reform Ride, although their second thoughts eventually came to nothing.
Ride joined a number of influential 80's/90's brit bands by reforming in 2014. It felt almost like a second life had been given to the Shoegaze genre, with students of UK Rock discovering and then attempting to duplicate the effects by bands like Ride, MBV and Slowdive, all three eventually reformed around the same time and began to record new music.
Ride eventually released Weather Diaries in 2017, their first LP for 21 years. The album recieved good reviews, though some hardcore fans disputed the modernistic production effects which made the band sound too polished and clean. But, as they say, new music is better than no music, right?
Interestingly, Ride have amassed a large following of fans out East. In China right now Shoegaze bands like Sound and Fury, City Flanker and Default have brought Shoegaze back into the consciousness of music fans up and down the country. I talked to some of these musical fans about the influence that Ride had on their music in their formative years and beyond.
Jovi – Boring Productions/Atta Girl/Butterbeer
Jovi, founder of the DIY Indie Label Boring Productions out of Shenzhen, has been a fan of Shoegaze bands like Ride and Slowdive and My Bloody Valentine for years. While his current crop of music as part of Atta Girl and Butterbeer pertains more to Jangle Rock than Shoegaze, he still actively supports Shoegaze acts like Sound and Fury and The Cheers Cheers.  

What did their music mean to you as a musician?
Well, along with other shoegaze bands like MBV and Slowdive I think Ride were more "rock." Their songs and melodies have solid foundations, even without all those miscellaneous guitar effects, their music is still catchy (possibly because Mark Gardener and Andy Bell love to play acoustic version before they started.) Besides, their arrangments during vocal harmony and double guitars is inspiring. Also Loz's drums are indispensible as a part of Ride's "wall of sound." I always thought if I could meet a drummer like Loz, I could spend much less time researching guitar effects, because with those drums you can still create a powerful shoegaze song.
Did you ever try to use some of those effects in a song? Which songs?
In the past I did. On my very first band called The Whisper – but we didn't record any songs.
How technically challenging was it trying to replicate that sound?
The pedalboard of Andy Bell is not that complicated during the recording of Nowhere, with a ds1 plus dd7 (guitar distortion pedals) and some sort of reverb pedal you can get a similar sound. I think their unique sound came a lot from songs foundations, things like the open chord and the arrangement.
Fatfish – Sound and Fury
Founded in 2011, Sound and Fury are one of China's oldest and most famous Shoegaze acts. Originating in Chengdu, the band recently released an album, Sprout, on Jovi's Boring Productions label which you can catch on Bandcamp and Xiami now. 

What aspects of Ride's music did you want to use for your own music?
I think the brisk guitar sweep in Going Blank Again had the biggest impact on me, and I loved it most when I took a shoegaze position and interpreted the primitive instrument as electric guitar. And, of course, there was also their perfect harmony. I had a period of months listening to that album, I never grew tired of it.
What do you feel made Ride different from other large shoegaze bands like MBV and Slowdive?
Whats different is that Ride had built an order that belongs to its members by traditional methods of rock and roll and by their chemistry. Even on their studio albums you can feel the atmosphere of their live shows. The rhythm of their music is unique in that era.
Were you impressed with their last album, weather diaries? can you still hear the youthful Ride in their new music?
According to some interviews, their new album has been influenced by a lot of pop music and younger bands. With all due respect, I dont have all the points of interest in this album right now, But I think Weather Diaries is more of a product of this era, and I mean for the bands that are the biggest influence on shoegaze, the current concept is definitely different from MBV and Slowdive.
姬 - City Flanker
City Flanker, from central city Shaoxing, have built quite a following with the release of their last two records – Let Me But Listen and Sound Without Time (both available on Bandcamp.) Their sound bears more similarity to Irish band My Bloody Valentine, but that takes nothing away from their appreciation for Ride. 
 Did Ride have an impact on City Flanker's music?
Yes,we do love ride's music, their guitar noise impressed us a lot, i believe every shoegaze band have heard of their music more or less.
    When we were still a new started band at that time we have two guitar and one drummer,in arrangement,we made a lot of guitar noise and repeated drum grooves like ride used to do.
    If you listen to our lastest album,you will find some ride style elements in the song "Lane."
What do you feel made Ride different from other large shoegaze bands like MBV and Slowdive?
In our minds Ride is more like a shoegaze rock n roll band. MBV is more like a shoegaze noise band with some experimental elements. Slowdive is more like a shoegaze pop band.
They are the best shoegaze bands in the world but they are quite different from each other. I think that is because they focused on different aspects of shoegaze music which makes them who they are.
 Were you impressed with their last album, Weather Diaries? Can you still hear the youthful Ride in their new music?

To be frank, we loved the OX4 more than Weather Diaries but in their lastest album we found out they tried a lot of new ideas.This new album has more elements and details compared to previous albums. We think it's right for a band to change themselves all the time, after all everything else in the world is changing all the time.