One of Guangzhou's rising young bands, The Foreigners, are getting ready for the release of their debut album, (Ending of the) Start, at the end of this month.
While playfully named The Foreigners, they have reason to understand the plight of Waiguoren up and down the country.
The bassist for this album is Japanese, whilst lead singer and songwriter Muxia spent five years studying in Tokyo before returning to China a few years ago. They can empathise with the angst and alienation that foreigners sometimes suffer in this land far from home.
As such they have latched onto one of Rock music's most regional genres – Britrock. Their music recalls bands as far flung through time as Oasis, Suede, Arctic Monkeys and The Libertines, each of whom the band has expressed admiration for.
And although they have certainly built their reputation on their powerful Britpop sound, they are ready to step from behind the comfort that this blanket term provides. In making this album the band has found an identity of their own, writing songs in Chinese for the first time and putting more emphasis on guitar work in the studio.
I caught up with their frontman Muxia to discuss the making of their debut album and what happens next for his band.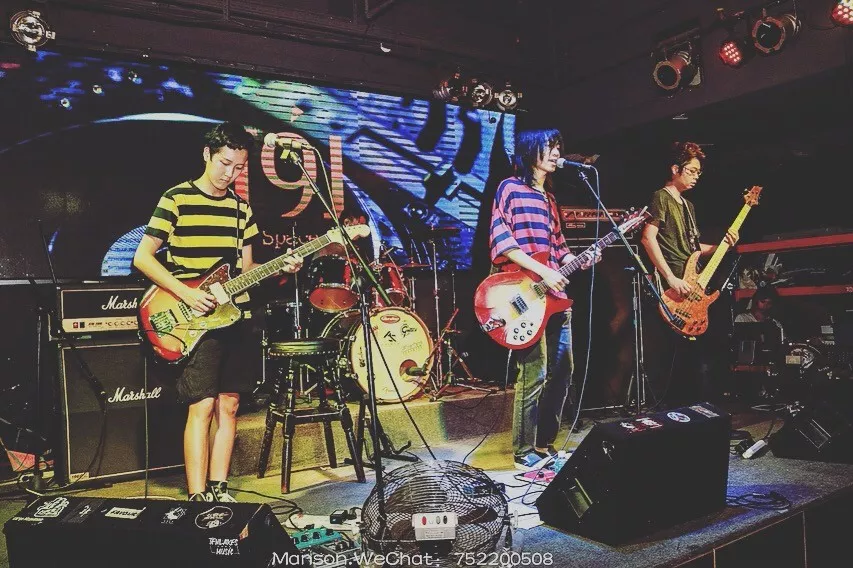 So first could you introduce yourself and your band for us
Well, we are an Indie Rock band called "The Foreigners"(异国人) from Guangzhou. We started the band in 2016. I'm the Singer and songwriter Muxia
Since you guys began in 2016 what has happened? How have things changed for you?
We've been through a lot in the past year. In the beginning we performed Oasis, Beatles and Arctic Monkeys covers. We were playing a lot of gigs, but a lot of people who go to gigs in Guangzhou are fans of Metalcore or heavier stuff, so no one was too concerned about us. When we started to make our own songs, things seemed to get better. We've also changed band members a lot. We've tried 3 different Bassists, 2 Drummers in the past year and a half. And after this album our bass player Arikawa will go back to Japan.
Is one of your members Japanese?
Yep, our bass player is Japanese
How did he come to Guangzhou?
He's working for a Japanese Company here in Guangzhou. He came here 2 years ago.
Before this band were you guys in other bands?
Actually this is my first Band in China. I went abroad to Japan to study for about 5 five years until 2016. I used to play in a band in Tokyo. Our guitarist, she was never in a band before, but she has always been musical, she has played the piano since she was young. Our drummer used to play in a band when he was in high-school.
What kind of music did you make with your previous band
My previous band's name is Hype. We played alternative rock and post punk stuff. We were influenced a lot by Radiohead, it really sounded like their early stuff, like "The Bends."
What did you study in Japan? How is your Japanese? 
I studied Human rights law in Japan, but I was never a good student. My Japanese is so much better than my English.
Now that you are back in Guangzhou, what is your job?
I am working for an agency now. Students who want to go abroad to study in Japan they come to us.
With this new album what music were you listening to while you were making the songs?
We were listening to this band from Manchester called Blossoms, and also some Arctic Monkeys and Pixies. Our guitarist was really into Sonic Youth and Shoegaze.
Were you guys trying to do something new with this one?
Yep, we wanted to do something less "Brit-pop." When I was in High-school I was listening to Oasis, Suede and other 90s bands all day long, we wanted to change our style on this one. Also, we'll have 3 songs that have Chinese lyrics on the next record. 
What direction are you going musically? If you are moving away from Brit-pop, where are you moving towards? Is it about finding your identity as a band?
I think this album is just a transition to what we really want to do. We want our music to sound more progressive. We want to make strong, guitar driven music, just like what we do live.
One thing i was really impressed by at your live show was your vocals, how did you develop your singing technique?
I'm just trying to practice more, and try to find best way to sing for myself. I've never sang this much before, when I was in Japan I only write songs for my singer.
 Who are your favourite singers?
Liam Gallagher, Thom Yorke, Brian Molko (From Placebo), Alex Turner.
Oh placebo, thats makes a lot of sense (Muxia's nasal high pitched tone is very similar to the Placebo frontman's vocal style.)
So how long did it take you guys to make this album?
I think it took about half a year. At first we just wanted to do an EP and release it, and then we made two singles, then we started to think maybe we should make 7-8 more songs and make an album, but it really didn't us take a long time.
How many songs will be on the album?
13songs, including 7 songs we've already put on Xiami and Wangyi (from previous EP and single releases.
What is your favourite song on the new album?
I think it's a song called "Fall in Love with What you Hate." A really good tune.
What makes that one special?
It's really different with our old songs, even Carsick Man (in a Party House.)
So during the recording of the album did you get any help from outside the band?
We had two producers to help us to mix the songs and do the mastering. We actually argued quite a lot. They were always saying that our guitar is super noisy or something like that. Actually 别回头 and other singles' final version is not we really want at the first, it should be sound heavier.
Who were the producers? How did you find them?
One of the producers was Huanghe, the guitarist of a post rock band called Space Station. The other one is Pei Fangzhou, who is the songwriter and guitarist of a pop rock band called Mr. Ark.
For this album, will you bring it on tour?
Of course! We are gonna have a tour this summer. We want to play 23 cities all over the country.
How will you pay for it?
We are selling CDs and T-shirts, and we all have other jobs to save some money for tour. We can use that money for booking hotels. 
One more question, not sure if i asked you this already, but are you guys signed to a label now?
No, I think we're not prepared for it yet. But after the tour we're gonna try to find some labels to talk about it.
You can catch (Ending of the) Start on Xiami on March 30th. The first single from that album, Carsick Man in a Party House, is out now.